Skier Accidental in Old Man
Purcells
Ry Johan , Tuesday 10th March, 2020 8:00AM
Sled Boarding Day in Old Man yesterday. Sluffs on steeper terrain in Alpine. Around 1 pm the snow started to feel a different with the sun affect.
Snow conditions were: Powder. Weather conditions were: Cold, Warm, Sunny. We rode: Alpine slopes, Mellow slopes, Dense trees, Convex slopes, Steep slopes. We avoided: Sunny slopes. Riding quality was good.
Avalache Conditions: Rapid temperature rise to near zero degrees or wet surface snow. Whumpfing or drum-like sounds or shooting cracks.
Incident
A group of 8 sled skiing in old man. This was our 3rd lap of this zone, with the other lines being lookers left. The riding attempted to stick to the ribs and ridges to avoid start zones and convex rolls. On the 3rd lap we dropped into a steep, short face which had mostly all sluffed out, then through a low angle bowl until we regrouped on the ridge skiers right before the next pitch. The green dots in the photos are where riders were when the avalanche happened. Yellow is fracture line. 3 people had gotten to this spot when we heard a loud whumpf, then watched a crack form at us or just above us, then a delay (which seemed long, but was probably quite short.. enough time to think "something's wrong!"). The slab started moving anywhere from less than 1 m to 2 m above us, and a frantic skooch ensued to get off the slab and arrest on the bed surface. Luckily it worked out before the slab pulled over the roll and into a tight gully and ran down this gully for a few hundred meters. We suspect based on the depth of the weakness it was the Feb 22 layer. The snow was soft and light on top and quickly changed to dense right up the top 15-20 cm. Our mistakes could have been: - that even though we were near the ridge top, we were a little ways off and that was enough to be semi involved. - The day was warming up - We worried more about the main start zone at the top, even though buried Surface Hoar would likely exist more lower down where it's more sheltered.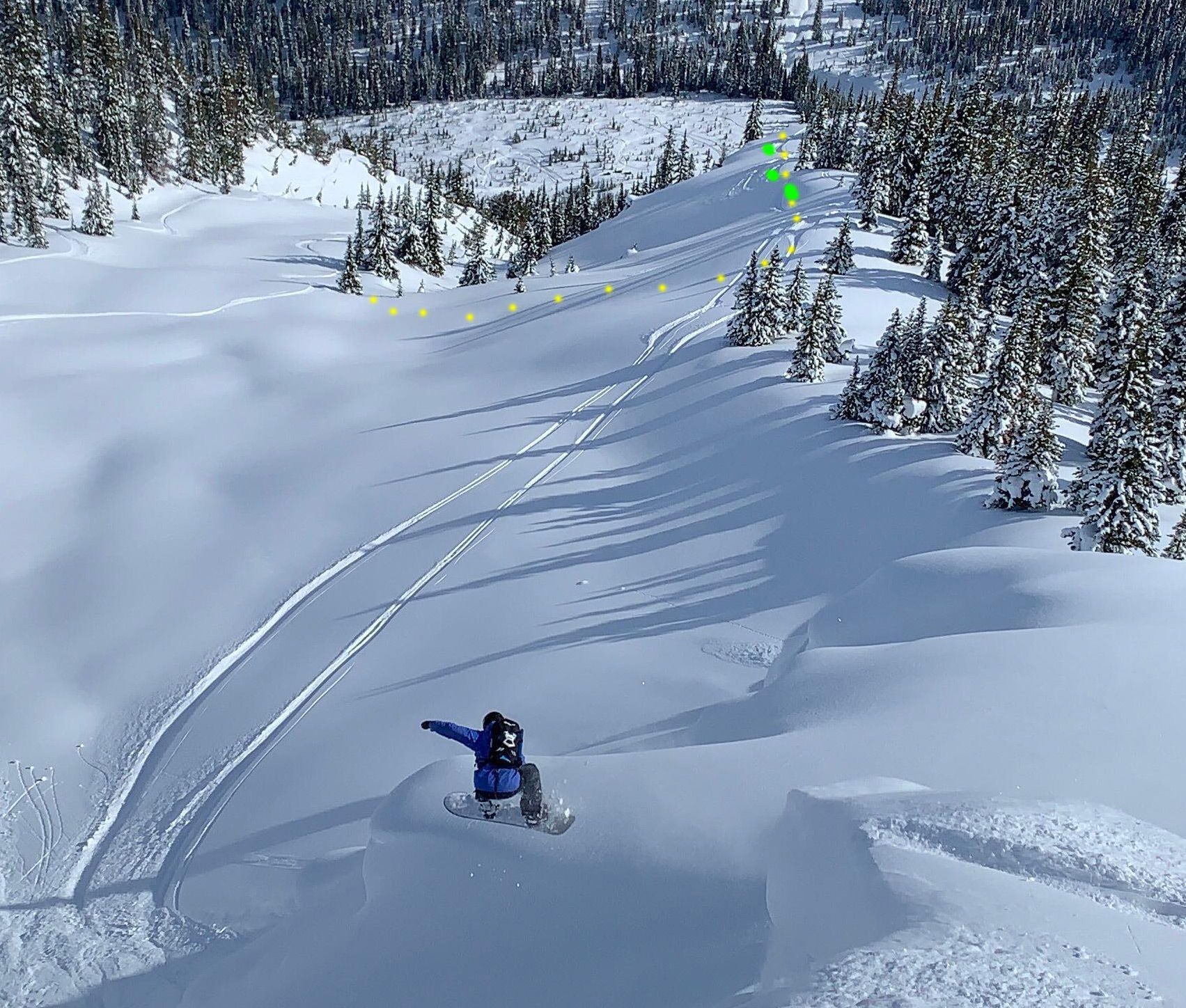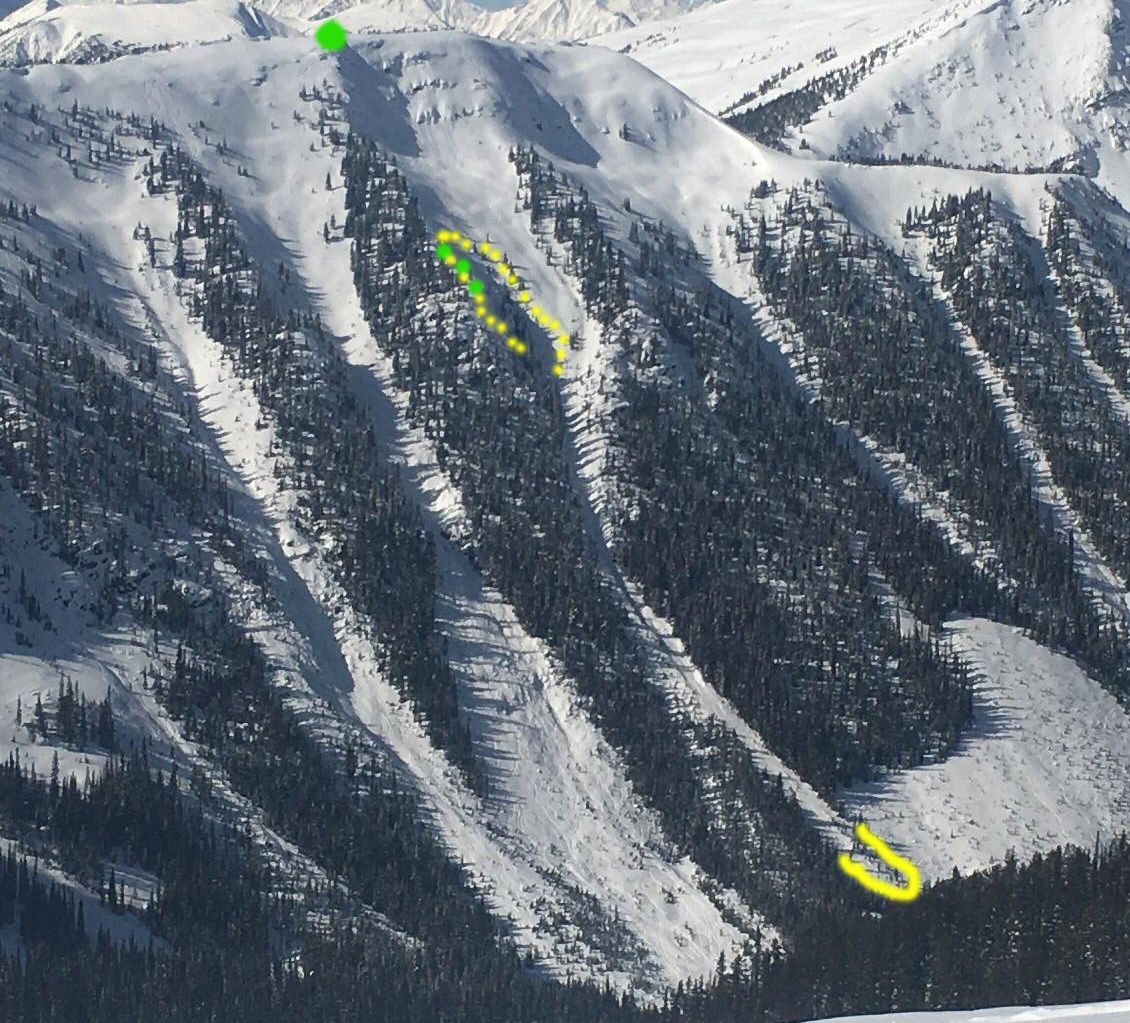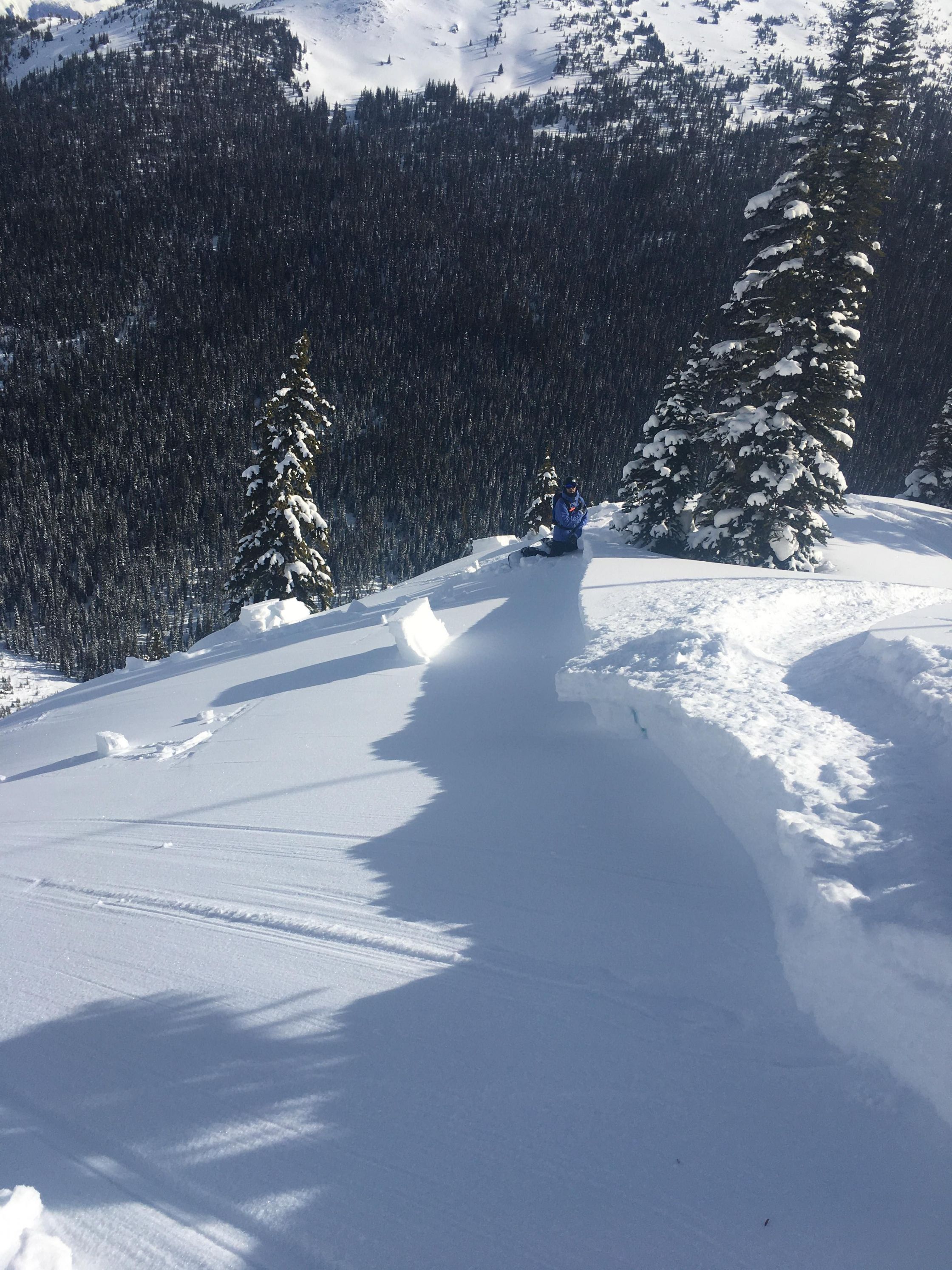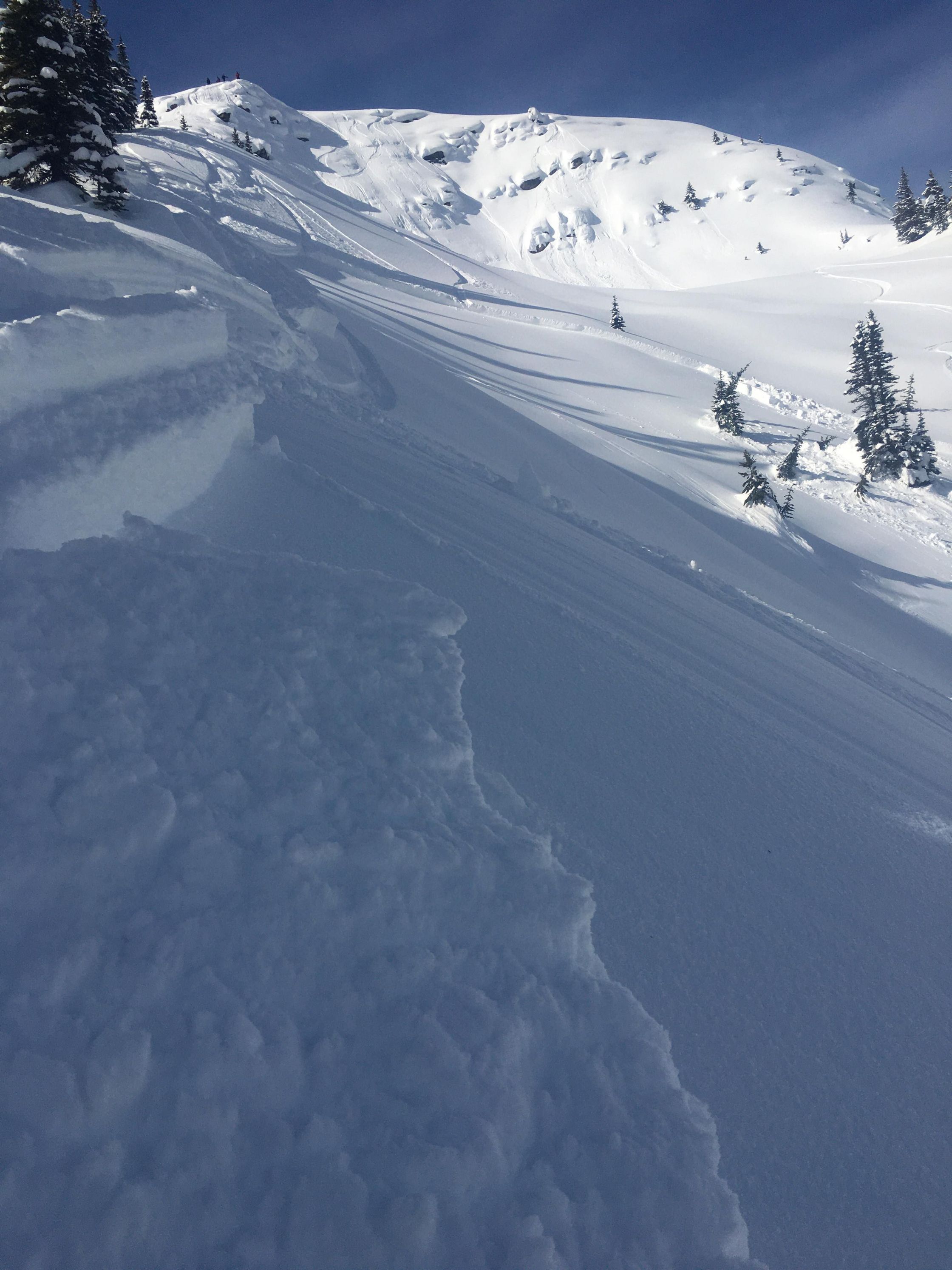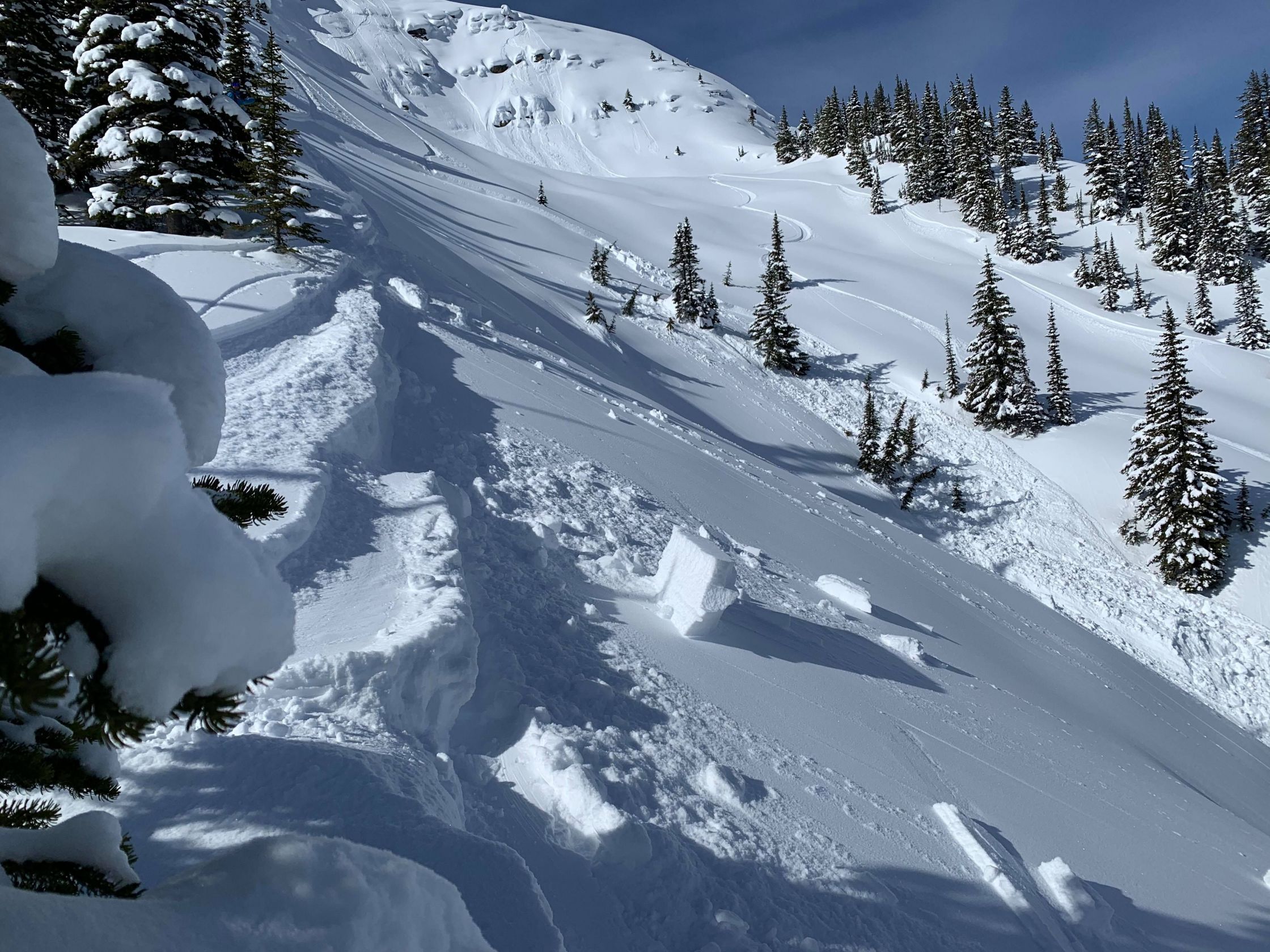 Source: Avalanche Canada MIN