Napoleon Spur Cheops South 1
Glacier National Park
Meshwell Boschmann , Friday 12th February, 2021 5:45PM
Given the forecasted wind from the east up high we decided to go for a below alpine south facing line today. Moderate to intense wind transport from seemingly strong ridgetop wind from the east this morning. From our vantage point, reverse loading was observed on Sir Donald, Terminal, Illecillewaet Glacier, Glacier Crest (!), Lookout Mountain, Youngs Peak, Asulkan Pass, Dawson, Jupiter, Swanzy, Clarke and Bonney. Skinning up Napoleon Spur from the Illecillewaet Valley parking lot was a bit nerve racking with snowloaded treetops swaying in the wind and a few fridge size tree bombs coming down. The wind got very strong from the north at the upper treeline and widespread 30-40cm thick 1F to P hard fresh windslabs were observed. A few of these windslabs seemed to have cracked (on supported features) naturally or from a group that headed up that way recently (yesterday?). A few other had slid SZ1-1.5. Propagation seemed really good but was limited by the size of the open features. Given the abundance of fresh windslabs on the east aspect, we decided to traverse low on the south side to get to the guts of Cheops South 1 instead of pushing further up the steep ridge (high rock steps) and having to expose ourselves to the windslabs on the increasingly steeper east aspect. We found mostly unconsolidated snow along the traverse on the south side but more open areas had localized up to 5cm thick windskin. A hasty pit at the beginning of that traverse provided moderate sudden planar results down 25cm on facets so we threaded carefully. Ski cutting a couple larger openings did not produce any result. We finally made it to the guts of Cheops South 1 proper in which we observed two ski tracks and sloughed out/avalanched snow from sometime in the last 48 hours. The avalanche had reached half way down the guts but good turns were found on either side of it and just past its terminus. We traversed to Cheops South 2 when we got just above the cliffy section. The first 200m in Cheops South 2 had excellent creamy snow just next to the skier's right trees but this transitioned to thin fresh windslabs and finally windscoured conditions for the last 100m from the strong east wind funneling between Abbot and Cheops. Of note, there is an approximately 100m wide glide crack just below our entry point into Cheops South 2 so if you head that way, keep it to the skier's right! We experienced strong head winds in every valley bottom openings while skinning back to the Illecillewaet Valley parking lot so we kept all of our layers on including puffy, big gloves, helmet and goggles. The biggest lesson from today is that with strong wind from the east, Napoleon Spur turns into the equivalent of MacDonald West Shoulder #1 (in the prohibited area where the weather station with the record winds sits) and the Cheops-Abbot constriction becomes the equivalent of the windy MacDonald-Tupper corridor.
Snow conditions were: Wind affected, Powder. Weather conditions were: Windy, Sunny. We rode: Alpine slopes, Steep slopes, Sunny slopes. Riding quality was ok.
Avalache Conditions: 30cm + of new snow, or significant drifitng, or rain in the last 48 hours. Slab avalanches today or yesterday. Whumpfing or drum-like sounds or shooting cracks.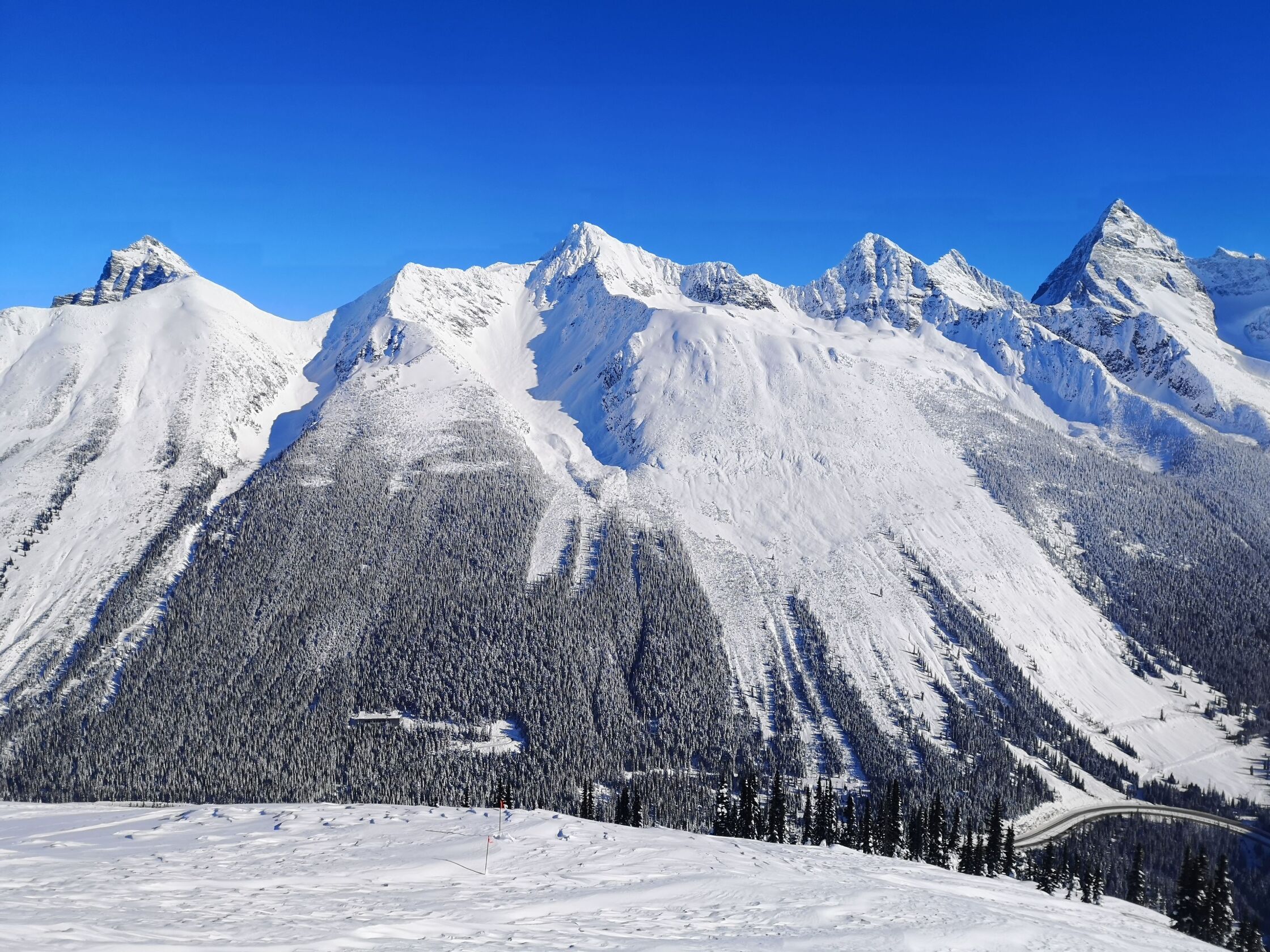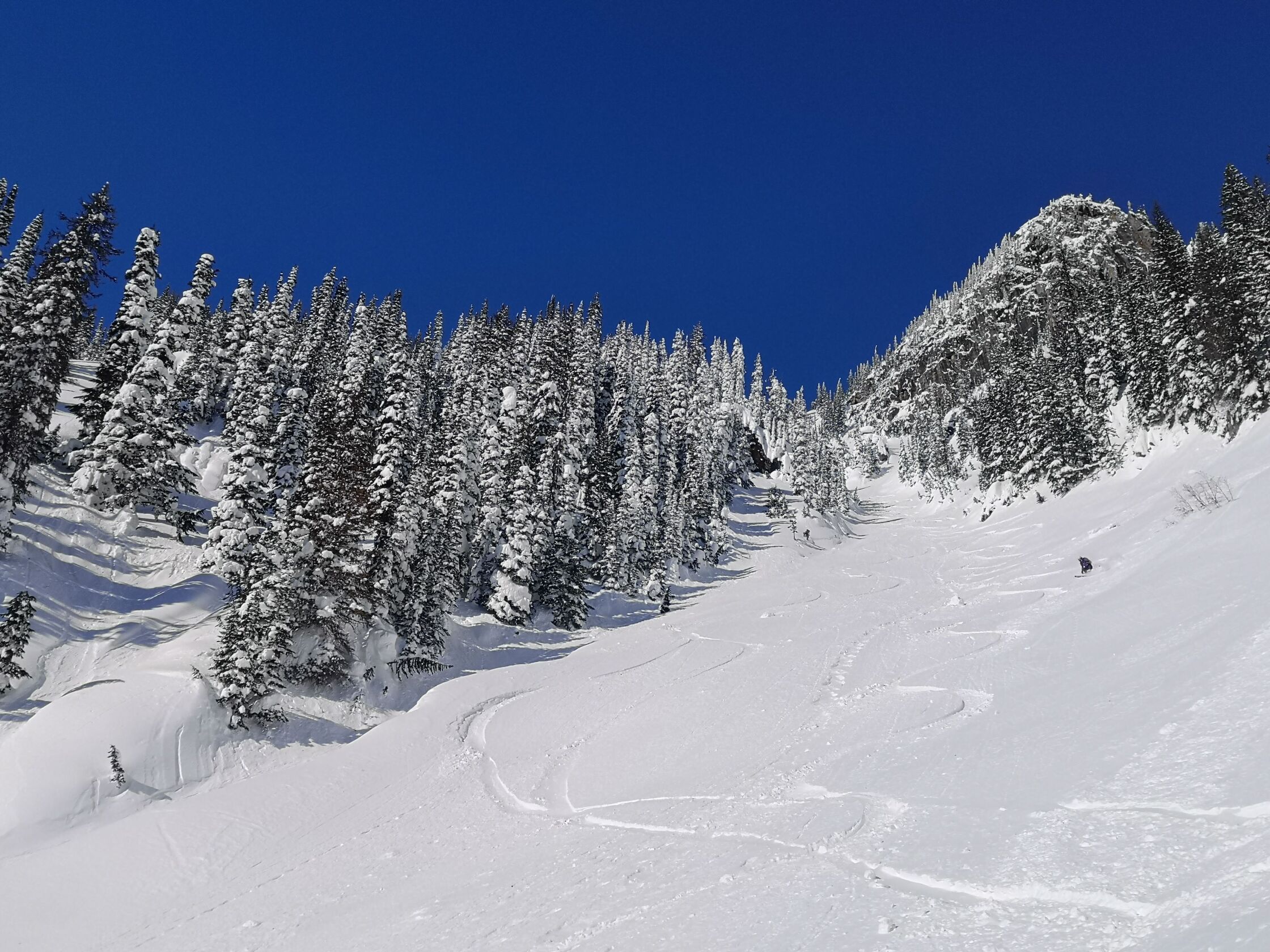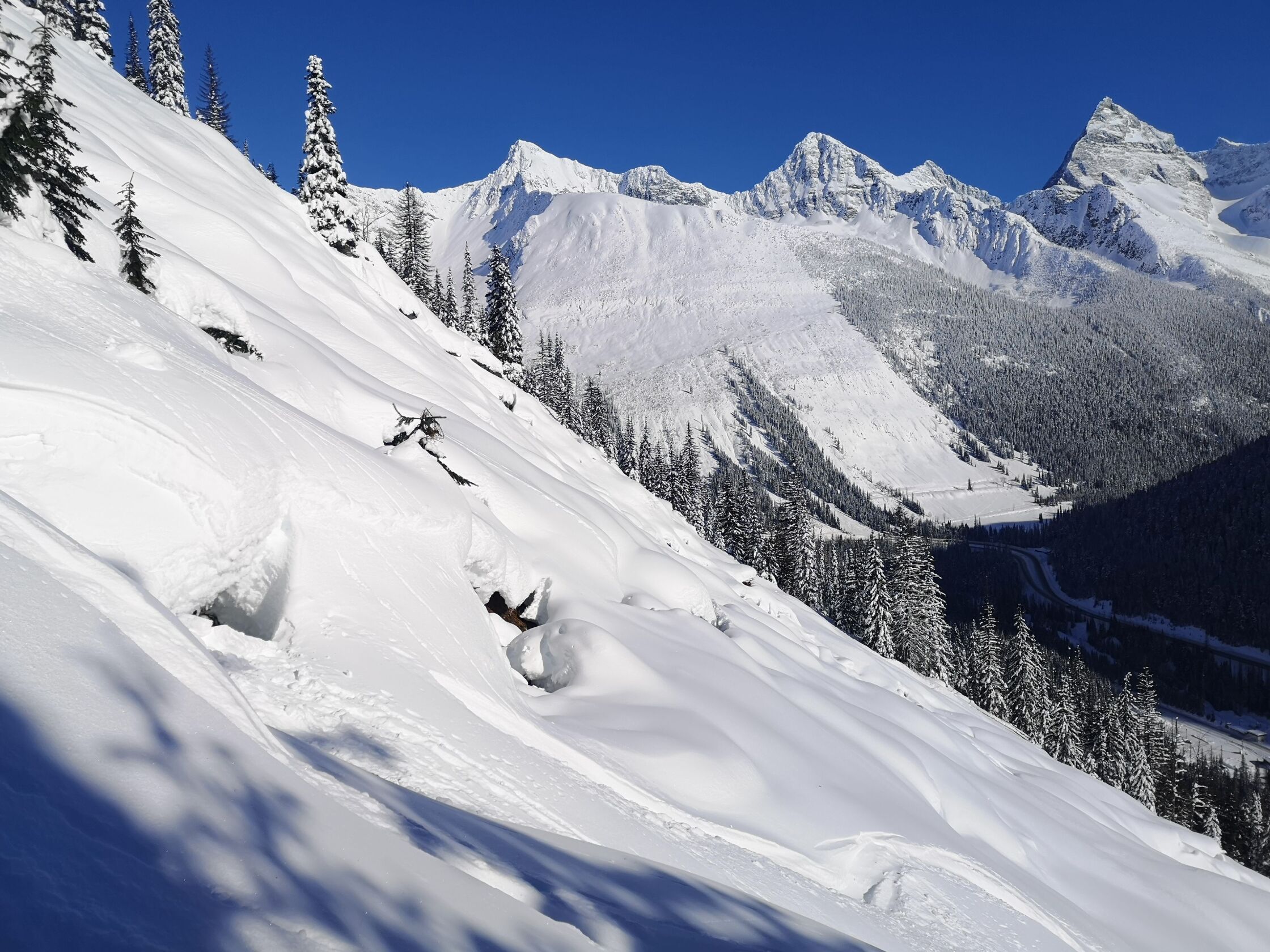 Source: Avalanche Canada MIN