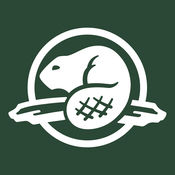 marcus waring, Parks Canada
Waterton Lakes National Park Avalanche Forecast
Jan 27th, 2020 4:07PM
The alpine rating is moderate, the treeline rating is low, and the below treeline rating is low. Known problems include Wind Slabs and Deep Persistent Slabs.
Recent mild temperatures have caused significant settlement within the snowpack over the past few days. Though the hazard is rated low in most areas, it is still possible for humans to trigger pockets of windslab in isolated areas.
Summary
Weather Forecast
Tuesday: Mainly cloudy with isolated flurries. Freezing level 1400m. West wind 30 gusting 50km/h.
Wednesday: A mix of sun and cloud. Freezing level valley bottom. Strong West wind.
Thursday: Mainly cloudy with scattered flurries or freezing rain. freezing level 1500m.
Snowpack Summary
Recent warm temperatures have settled the overall height of snow by 5-10%. A breakable crust exists up to 2000m and is more pronounced on solar aspects. In lee areas, a 20-70cm windslab sits over a very well settled midpack. The base of the snowpack is made up of a facet, melt freeze crust combo. The front range has significantly less snow.
Avalanche Summary
Wet loose natural avalanches up to size 1.5 occurred during previous warm period below 1600m. Estimated date Jan 25.
Confidence
Due to the number of field observations
Problems
Wind Slabs
Strong southwest winds have created stiff wind slabs in lee features at alpine and treeline. Natural activity may have subsided but human triggering remains possible.
Use caution in lee areas. Recent wind loading has created wind slabs.
Aspects:
North, North East, East, South East, South, North West.
Elevations:
Alpine, Treeline.
Deep Persistent Slabs
Likelihood
Possible - Unlikely
Although recent warm temperatures have generally added strength to the snowpack, triggering persistent slabs is still possible in shallow snowpack areas.
Avoid areas with overhead hazard.
Avoid thin, rocky or unsupported slopes.
Aspects:
All aspects.
Elevations:
Alpine, Treeline.
Valid until: Jan 30th, 2020 4:00PM