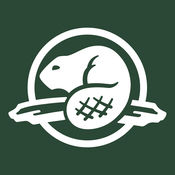 conrad janzen, Parks Canada
Waterton Lakes National Park Avalanche Forecast
Dec 24th, 2012 4:00PM
The alpine rating is moderate, the treeline rating is moderate, and the below treeline rating is moderate. Known problems include Wind Slabs and Storm Slabs.
Heavy trail breaking and great skiing today!  The snowpack at treeline is now over 2m and tree wells are becoming a significant hazard.  Below 1750m rocks and stumps are still lurking below the surface.  Happy Holidays!
Summary
Weather Forecast
Continued cool temperatures are forecasted until Friday when the high pressure ridge starts to break down.  Light winds out of the SE slowly moving back to the W by the end of the week and only light amounts of snow are forecast.
Snowpack Summary
Approx 80 cm of recent storm snow at tree line which is bonding well to previous surfaces and producing Mod to Hard resistant shears.  Light wind effect near ridge crests forming isolated soft slabs.  No other major concerns in the snowpack although several crusts exist low down in the snowpack and are faceting out in thin areas. 
Avalanche Summary
Sluffing and soft slabs out of very steep terrain up to size 2 were observed in the last 24hrs due to the large amount of new snow recently.  No new avalanches were observed today.
Confidence
Wind speed and direction is uncertain
Problems
Wind Slabs
Likelihood
Possible - Unlikely
Light winds are creating soft slabs near ridge crests which should be considered if entering steep terrain.  Also be aware of previous wind slabs now covered with the recent storm snow.
The recent snow may now be hiding windslabs that were easily visible before the snow fell.Be cautious as you transition into wind affected terrain.
Aspects:
North, North East, East, South East.
Elevations:
Alpine, Treeline.
Storm Slabs
Likelihood
Possible - Unlikely
The new snow is bonding well but will settle slowly with the cooler temperatures.  Watch for sluffing and soft slabs in steep terrain.
Expect heavy trailbreaking until the storm snow settles out.Ride slopes one at a time and spot for your partners from safe locations.
Aspects:
All aspects.
Elevations:
All elevations.
Valid until: Dec 27th, 2012 4:00PM