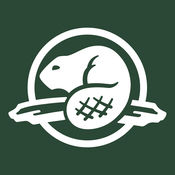 conrad janzen, Parks Canada
Waterton Lakes National Park Avalanche Forecast
Dec 20th, 2012 4:00PM
The alpine rating is considerable, the treeline rating is moderate, and the below treeline rating is moderate. Known problems include Wind Slabs.
Good skiing in sheltered locations.  Watch for early season hazards like rocks and stumps at lower elevations.  Pay close attention to localized wind effect.
Summary
Weather Forecast
A cold front will bring moderate precip until it clears the area on Friday afternoon. The arctic high over the prairies will cause an overall drop in temperatures to near -25'C by mid-weekend, but this should trap moist air against the divide and allow for light accumulations through Sunday.  Moderate SW will continue through the forecast period.
Snowpack Summary
Windslabs at ridge crests and in the alpine with recent SW winds.  25-30cm of storm snow bonding well to previous surfaces.  The Nov 29/Dec 3 crust down 60 to 70cm is producing broken shears in facets below the crust.  This crust disappears above 2000m.  Snowpack depth at treeline is 170cm but varies widely due to previous strong winds
Avalanche Summary
No new avalanches observed over the past several days.
Confidence
Timing, track, or intensity of incoming weather system is uncertain
Problems
Wind Slabs
Likelihood
Possible - Unlikely
Wind slabs forming near ridge crests and open areas due to strong SW winds over the last couple of days.  Use your poles and skis to probe/feel for wind slabs. 
Be careful with wind loaded pockets while approaching and climbing ice routes.Caution in lee and cross-loaded terrain near ridge crests.
Aspects:
North, North East, East, South East.
Elevations:
Alpine, Treeline.
Valid until: Dec 23rd, 2012 4:00PM