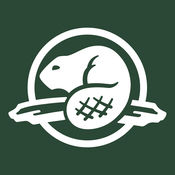 Adam Greenberg, Parks Canada
Waterton Lakes National Park Avalanche Forecast
Feb 10th, 2020 4:00PM
The alpine rating is moderate, the treeline rating is moderate, and the below treeline rating is low. Known problems include Wind Slabs and Loose Dry.
Incoming snow amounts vary widely between weather models. Forecast is based on 5cm of new snow over the forecast period, IF MORE THAN 15cm OF SNOW ARRIVES, INCREASE THE HAZARD RATING BY ONE LEVEL.
Summary
Weather Forecast
Tuesday: Scattered flurries, up to 5cm of snow. Moderate to strong west winds, alpine high -6
Wednesday: Scattered flurries, up to 4cm of snow. Moderate SW winds, alpine high -8
Thursday: Flurries, up to 7cm. Moderate to strong west winds, alpine high -6
Snowpack Summary
5-10cm of recent snow with more in the forecast has formed new slabs with southwest winds. This sits on old wind slabs and a thick crust below 2000m that has locked up the lower snowpack. The midpack is well settled, though weaker basal facets can be found in thin areas.
Avalanche Summary
Several loose dry avalanches to size 1.5 were observed on Monday in steep south facing terrain running on the February 1 crust. Older larger natural windslabs to size 2 in lee alpine features were also observed and likely occured during the weekend. Surrounding operations reported skier triggered windslabs to size 1.5 on Sunday on a SE aspect.
Confidence
Forecast snowfall amounts are uncertain
Problems
Wind Slabs
Likelihood
Likely - Possible
Incoming wind and snow will form new slabs on lee aspects. Below 2000m, these sit on a thick crust which could serve as an excellent bed surface and allow fractures to propagate surprisingly far. Take the time to evaluate the bond to this layer.
Use caution in lee areas. Recent wind loading has created wind slabs.
If you are increasing your exposure to avalanche terrain, do it gradually as you gather information.
Aspects:
North, North East, East, South East, South, North West.
Elevations:
Alpine, Treeline.
Loose Dry
Depending on incoming snow amounts, loose snow avalanches will have the potential to run far and fast on the crust in steep terrain. If the sun comes out, these will be easier to trigger on solar aspects and will likely occur naturally.
874
Minimize exposure to sun exposed slopes when the solar radiation is strong.
Aspects:
All aspects.
Elevations:
Treeline, Below Treeline.
Valid until: Feb 13th, 2020 4:00PM