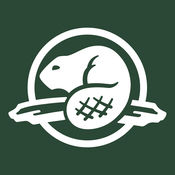 marcus waring, Parks Canada
Waterton Lakes National Park Avalanche Forecast
Jan 11th, 2020 4:00PM
The alpine rating is considerable, the treeline rating is considerable, and the below treeline rating is moderate. Known problems include Wind Slabs and Loose Dry.
Recently created windslabs will become difficult to spot as the Waterton receives a moderate amount on low density snow over the next few days. If triggered, windslabs may step down to the late December melt freeze crust.
Summary
Weather Forecast
Sunday: 5-10cm overnight. Cloudy with scattered flurries during the day. Total daytime accumulation 5-10cm. Light SE Winds. Temperature dropping rapidly overnight.
Monday: Continued extreme cold with flurries totalling 5 cm. Moderate NE winds
Tuesday: Extreme cold with flurries.
Snowpack Summary
Extreme West winds yesterday have created a 10-60cm windslab sitting low in start zones on all but W aspects. New snow on top of this windslab produce small loose dry avalanches. A crust down 20-70cm exists up to 1800m. The middle snowpack is well settled in deep snowpack areas but a weak facet/ melt freeze crust still lurks at base of snowpack.
Avalanche Summary
No new avalanches observed.
Confidence
Problems
Wind Slabs
Windslabs will will be difficult to spot with new snow arriving on Sunday. Buried windslab will act as a smooth bed surface for dry loose avalanches.
Minimize exposure during periods of loading from new snow and wind.
If triggered the storm/wind slabs may step down to deeper layers resulting in large avalanches.
Aspects:
North, North East, East, South East, South, North West.
Elevations:
Alpine, Treeline.
Loose Dry
Watch out for fast-moving dry loose avalanches in steep terrain.
Cornice fall could easily trigger Wind Slabs and Loose dry avalanches.
Aspects:
All aspects.
Elevations:
All elevations.
Valid until: Jan 14th, 2020 4:00PM