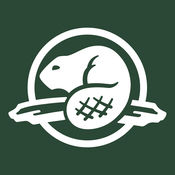 Conrad Janzen, Parks Canada
Little Yoho Avalanche Forecast
May 5th, 2019 4:36PM
The alpine rating is below threshold, the treeline rating is below threshold, and the below treeline rating is below threshold. Known problems include Wind Slabs, Loose Wet and Persistent Slabs.
Summary
Weather Forecast
Go to www.avalanche.ca/weather/forecast for the current weather forecast.
Snowpack Summary
New snow instabilities are generally settling rapidly and alpine N aspects remain cold and dry. Concern remains for alpine solar aspects where April facets between crusts have been reactive in the past week. Treeline and below a spring melt freeze snowpack exists with crusts in the AM and increasing hazard in the PM depending on temperatures.
Avalanche Summary
As of May 5th, loose wet avalanches with daytime warming on solar aspects and lower elevations, and a few wind and storm slabs in the alpine up to size 2 were reported in the past week. Increasing temperatures in the next weeks will lead to increased avalanche avalanche activity and cornice failures especially during the hottest parts of the day.
Confidence
Problems
Wind Slabs
Any significant storms or increased winds will redistribute soft snow in the alpine and form wind slabs in lee areas. Watch for wind loading when entering steeper, more committing ski lines or climbing alpine routes.
Be careful with wind loaded pockets, especially near ridge crests and roll-overs.
Aspects:
North, North East, East.
Elevations:
Alpine.
Loose Wet
If the sun comes out for any length of time or daytime temperatures rise above freezing, expect loose wet avalanches out of steep terrain. Cornice failures will also increase with warm temperatures.
Minimize exposure to big slopes with cornices, especially during the heat of the day.
Daytime warming will weaken surface layers, plan your day around being back to the trailhead early.
Aspects:
South East, South, South West, West.
Elevations:
Alpine, Treeline.
Persistent Slabs
Likelihood
Possible - Unlikely
Though not widespread, this layer of facets over crusts from mid April has been reactive in the alpine for a couple weeks and may persist for the next week or two. Some deeper persistent layers may also wake up as temperatures climb later in spring.
Watch for signs of instability such as whumpfing, or cracking.
Dig down to find and test weak layers before committing to a line.
Aspects:
East, South East, South, South West, West.
Elevations:
Alpine.
Valid until: May 6th, 2019 4:36PM