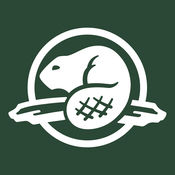 lisa paulson, Parks Canada
Little Yoho Avalanche Forecast
Apr 29th, 2019 4:00PM
The alpine rating is moderate, the treeline rating is low, and the below treeline rating is low. Known problems include Wind Slabs and Persistent Slabs.
Cooler temps and flurries for the next few days should keep the loose wet problem at bay, but pay attention if the sun does appear as it wouldn't take much to trigger loose wet avalanches involving the new snow.
Summary
Weather Forecast
Expect convective afternoon flurries for the next couple of days. Temperatures will stay cool with a northerly component to the wind. This kind of weather pattern can result in some locally deep accumulations, so pay close attention to where you travel.
Snowpack Summary
Up to 40cm of snow fell over the weekend at higher elevations. Strong winds during the storm did some loading, but the storm ended calm and cold. While the new snow should settle rapidly, be suspicious of its bond to the old snow and of the facets interfaces below. Supportive crusts exist below this new snow on solar aspects & at lower elevations.
Avalanche Summary
No new avalanche activity was observed or reported in the past 2 days.
Confidence
Problems
Wind Slabs
Likelihood
Possible - Unlikely
Up to 40 cm from the weekends storm coupled with strong to moderate wind has formed a slab over a variety of old wind slabs, crusts and facets in the alpine. The likelihood of avalanches is on the way down, but will persist for a few more days.
Use caution in lee areas. Wind loading could create slabs.
The new snow will require several days to settle and stabilize.
Aspects:
North, North East, East, South East, North West.
Elevations:
Alpine.
Persistent Slabs
Likelihood
Possible - Unlikely
We have seen some evidence of lingering deeper instabilities in the alpine from various crust and facets layers in April. These have been triggered by cornice falls and wind slabs. Keep checking for these weaknesses in steep alpine features.
Dig down to find and test weak layers before committing to a line.
Aspects:
North, North East, East.
Elevations:
Alpine.
Valid until: Apr 30th, 2019 4:00PM