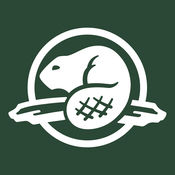 snow safety, Parks Canada
Little Yoho Avalanche Forecast
Apr 25th, 2019 4:00PM
The alpine rating is below threshold, the treeline rating is below threshold, and the below treeline rating is below threshold. Known problems include Wind Slabs.
Winter returns - expect the hazard to increase through the weekend with the incoming snow and wind. LP
Summary
Weather Forecast
Cloud moves in Thurs. evening with snow beginning Friday afternoon. Winds pick up Sat with increased snow, especially in the Eastern part of the region. Expect some reverse loading onto sun crusts with the strong NE winds. Amounts range from 20-30 cm by Sunday evening.
Snowpack Summary
Last week's storm snow settling and bonding, but the early April facet layer is still evident as a weak interface. Some small wind slabs in alpine lees and natural cornice failures with daytime heating . Melt freeze crusts present on solar aspects and at treeline and below breaking down with solar inputs. .
Avalanche Summary
One avalanche involvement today in a couloir on Narrao Shoulder. On a NE aspect at 2900 m, a cornice failure triggered a size 1.5 wind slab, which was initially 20 cm deep and then steeped down to approximately 40 cm deep. No other avalanches reported, but suspect other similar avalanches are occurring together with loose wet with daytime heating.
Confidence
Problems
Wind Slabs
Wind slabs linger from intense winds earlier in the week, as well as buried facets (Apr 18th). Approach bigger or committing slopes and lee terrain with caution. Be wary of any overhead cornices as they may trigger slabs beneath them if they fail.
Aspects:
North, North East, East, South East, North West.
Elevations:
Alpine.
Valid until: Apr 26th, 2019 4:00PM