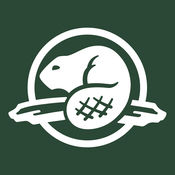 william lawson, Parks Canada
Little Yoho Avalanche Forecast
May 1st, 2019 4:00PM
The alpine rating is moderate, the treeline rating is low, and the below treeline rating is low. Known problems include Loose Dry, Persistent Slabs and Wind Slabs.
Localized snow amount may very at higher elevations. Deeper areas could develop larger then expected wind slabs.
Summary
Weather Forecast
Daily convective buildup is forecasted for the remainder of the week. Mornings will likely have more stable weather and as the day progresses expect to see small storm cells roll through bringing wind and precipe. We should see a warming trend into the weekend with valley temps reaching plus ten by Friday.
Snowpack Summary
10 to 15cm of new snow redistributed at ridge top by moderate winds have likely loaded immediate lees. Previous windslab is still visible through much of the alpine. Cooler temps have faceted in the upper snowpack creating a persistent problem where the new snow overlays previous crusts. Be cautious in areas where newly form slab overlays a crust.
Avalanche Summary
Loose dry activity was visible through much of the forecast region out of steep alpine features. These small avalanches appeared to be initiated by the wind, entraining newly accumulated storm snow. Tuesday our field team observed two large avalanches in the Observation Peak area, these avalanches where triggered on the persistent problem.
Confidence
Problems
Loose Dry
Likelihood
Likely - Possible
Expect to find many small avalanches initiated by the wind in steep terrain. These avalanches will likely release out of steep cliffs and entrain loose surface snow below. Continued snow fall will increase the likelihood of this problem.
Aspects:
All aspects.
Elevations:
Alpine.
Persistent Slabs
Likelihood
Likely - Possible
This instability continues to rear its ugly head in areas where a slab sits over previously formed crusts. Though not widespread, where this layer dose exist expect it to be reactive. Tuesday we observed to large avalanches fail on this layer.
Dig down to find and test weak layers before committing to a line.
Aspects:
All aspects.
Elevations:
Alpine.
Wind Slabs
Likelihood
Possible - Unlikely
Continued precipitation and moderate winds have formed small pockets of wind slab in immediate lee features at higher elevations. Though in many areas these slab will be small, localized areas of heaver accumulation may have formed large slabs.
Use caution in lee areas. Wind loading could create slabs.
The new snow will require several days to settle and stabilize.
Aspects:
All aspects.
Elevations:
Alpine.
Valid until: May 2nd, 2019 4:00PM