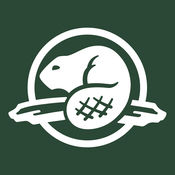 jasper snow safety, Parks Canada
Jasper National Park Avalanche Forecast
Apr 28th, 2019 4:44PM
The alpine rating is moderate, the treeline rating is moderate, and the below treeline rating is low. Known problems include Wind Slabs, Persistent Slabs and Loose Wet.
Cool temperatures are expected to preserve problems for a few days until the new snow has had time to settle.
Summary
Weather Forecast
Monday will be clouds, sun, and flurries, trace of snow, treeline -5C, light winds, and 1500m freezing level. Tuesday will be similar, low -8 and high -5C, light winds, and freezing level 1700m. Wednesday may bring 7cm of snow.
Snowpack Summary
15cm of snow on Friday in the Icefields, the same Saturday at Maligne from an upslope storm. The snow was reverse loaded by Strong N-NE winds and overlies several crusts/facet layers in the upper snowpack. Stubborn windslabs can be expected on most aspects in the alpine and treeline. A faceted midpack layer on shady alpine slopes remains a concern.
Avalanche Summary
Good visibility at Maligne range observed one recent size 2.5 persistent slab in an alpine bowl, E aspect, convex shaped terrain, likely initiated by morning sun. No other activity was noted but the patrol was before noon. No new activity was noted on an icefields parkway road patrol.
Confidence
Due to the number and quality of field observations
Problems
Wind Slabs
Saturday night's strong N winds and snowfall (higher amounts in the front ranges) has built fresh slabs on S aspects.  Older windslabs exist on N aspects, and may be bonded by now.
Use caution in lee areas. Recent wind loading has created wind slabs.
Keep an eye out for reverse loading created by N-NE winds.
Aspects:
All aspects.
Elevations:
Alpine, Treeline.
Persistent Slabs
Sensitivity of this layer may have increased on slopes loaded by recent wind and snow. Crusts in upper snowpack and deeper facet layers warrant further investigation.
If triggered the wind slabs may step down to deeper layers resulting in large avalanches.
Watch for signs of instability such as recent avalanche activity, and whumpfing/cracking underfoot.
Aspects:
North, North East, East, North West.
Elevations:
Alpine.
Loose Wet
Likelihood
Possible - Unlikely
Activity could increase with presence of intense sun particularly on steep Southerly aspects.
If the sun stays out you should avoid steep South and West aspects this afternoon.
Aspects:
South, South West.
Elevations:
Alpine, Treeline.
Valid until: Apr 29th, 2019 4:00PM