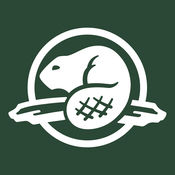 ross campbell, Parks Canada
Glacier National Park Avalanche Forecast
Apr 10th, 2019 8:03AM
The alpine rating is below threshold, the treeline rating is below threshold, and the below treeline rating is below threshold. Known problems include Wind Slabs and Loose Wet.
Watch for solar input if the sun comes out today; start and finish your day early. Expect challenging skiing below treeline. Watch for windslabs in the alpine!
Summary
Weather Forecast
Another mixed bag of weather today, which has been the norm recently. We may see some sun, rain at lower elevations, snow up high, and a risk of thunderstorms this afternoon. Ridge winds are expected to be SW and nudging into moderate values. Thursday looks a little drier than today, but flurries are still in the forecast.
Snowpack Summary
Reactive wind slabs overlie a well settled mid and lower snowpack in the alpine on polar aspects. A weak melt freeze crust is capping isothermal snow on all aspects to tree line; surface crusts will exist at higher elevations on solar aspects. Recent storm snow has been shedding easily over the past few days as loose and slab avalanches.
Avalanche Summary
One new
MIN report of a size 2 slab avalanche on Mt Leda
yesterday. Numerous loose and slab avalanches to size 2.5 have been observed in the alpine on all aspects over the past few days; including Video, Cheops, 8812, Grizzly, Catamount, Bagheera, and up the Asulkan valley.
Confidence
Problems
Wind Slabs
20cm of recent snow and moderate Southerly winds have created wind slabs on specific terrain features in the alpine. These slabs overlie a melt-freeze crust on solar asp and or, surface hoar on polar asp. Wind slabs are sensitive to human triggering.
Be careful with wind loaded pockets, especially near ridge crests and roll-overs.Use caution in lee areas. Recent wind loading have created wind slabs.
Aspects:
All aspects.
Elevations:
Alpine.
Loose Wet
Likelihood
Likely - Possible
A weak melt-freeze crust is capping frail isothermal snow in thin snowpack areas BTL. These crusts are prevalent at tree-line and above on solar aspects. Crusts have been breaking down by mid afternoon from the heat of the day.
Minimize exposure to steep, sun exposed slopes when the solar radiation is strong.
Aspects:
South East, South, South West, West, North West.
Elevations:
All elevations.
Valid until: Apr 11th, 2019 8:00AM