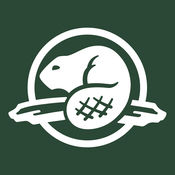 Kate Ryan, Parks Canada
Glacier National Park Avalanche Forecast
Nov 25th, 2019 8:00AM
The alpine rating is considerable, the treeline rating is moderate, and the below treeline rating is moderate. Known problems include Storm Slabs and Persistent Slabs.
Reactive storms slabs have the potential to reach shrubby valley bottoms. Stay vigilant in your situational awareness!
The Winter Permit System is now in effect.
Summary
Weather Forecast
A NW flow is bringing cooling temperatures and a break in precipitation. Below seasonal temperatures and clear skies will arrive by mid-week.
Today: Isolated flurries with sunny breaks. Freezing level 700m. Winds light from the west.
Tomorrow: Mix of sun and cloud with isolated flurries. Freezing level 400m. Winds light from the NE
Snowpack Summary
The weekend's 40cm of storm snow was accompanied by mod-strong S'ly winds, which have built fresh storm slabs. These slabs overlay either 5-10mm surface hoar at treeline and below, or a crust, which is widespread below 1600m and on steep solar aspects. Persistent slabs exist down 60-90 cm and may be triggered by larger loads.
Avalanche Summary
Yesterday, a natural avalanche cycle occurred in steep, north facing paths to size 3.0. These avalanches traveled through brush-filled terrain below treeline, into valley bottoms. Although the natural avalanche cycle has tapered off, expect human triggering to remain likely in wind affected areas in the alpine and at treeline.
Confidence
Due to the number of field observations
Problems
Storm Slabs
Up to 40cm of new snow and strong southerly winds have built fresh storm slabs.
Minimize exposure to terrain traps where the consequences of an avalanche could be serious.
Use caution in alpine and open treeline lees. Recent snowfall has created storm slabs.
Aspects:
All aspects.
Elevations:
Alpine, Treeline.
Persistent Slabs
The persistent slab is down 60-90cm and sits atop a crust/surface hoar/stellar layer.
If triggered the storm slabs may step down to deeper layers resulting in large avalanches.
Aspects:
All aspects.
Elevations:
Alpine, Treeline.
Valid until: Nov 26th, 2019 8:00AM