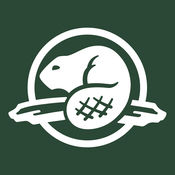 chris gooliaff, Parks Canada
Glacier National Park Avalanche Forecast
Apr 5th, 2019 8:00AM
The alpine rating is below threshold, the treeline rating is below threshold, and the below treeline rating is below threshold. Known problems include Wind Slabs and Loose Wet.
Pockets of wind slab exist in the Alpine and have been sensitive to human triggering.Rugged travel conditions exist below tree line with the nightly refreeze.Cold dry snow exists on high Northerly aspects.
Summary
Weather Forecast
Mainly cloudy today with a few sunny periods and a chance of isolated flurries later this afternoon. The alpine high will reach +1 as the freezing level rises to 2200m and the winds blow lightly from the SE. Tonight will see 5-10cm of snow. Snow is forecasted to continue on Sunday and persist into next week with 20cm of accumulation by Tuesday.
Snowpack Summary
10cm of recent snow accompanied by 25-40km/hr Southerly winds formed wind slabs at Tree-line and Alpine elevations. The recent snow buries a melt freeze crust on all aspects to tree line. Below the crust, the snowpack is isothermal in thin snowpack areas BTL. The mid and lower snowpack is strong at Tree-line and above where depths are over 2m.
Avalanche Summary
A size 1.5 skier accidental was reported from Cheops North 4. Crown depth was 10-20cm, 10m wide and ran for 700m stopping at the top of the fan, no involvement. Several other size 1-1.5 natural avalanches (wind slabs) were also observed in the area. MacDonald Gully #12 produced a natural size 2 early yesterday morning and ran 3/4 down the fan.
Confidence
Problems
Wind Slabs
10cm of recent snow accompanied by 25-40km/hr Southerly winds have created wind slabs in Alpine and Tree-line lee features. These slabs sit on a well-established melt-freeze crust and could be sensitive to human triggering.
Use caution in lee areas. Recent wind loading has created wind slabs.Be cautious as you transition into wind affected terrain.
Aspects:
North, North East, East, South East, North West.
Elevations:
Alpine, Treeline.
Loose Wet
Surface melt-freeze crusts are capping
weak isothermal snow
in thin snowpack areas BTL. These crusts are also prevalent at tree-line and above on solar aspects. Crusts have been breaking down by mid afternoon from the heat of the day.
Use extra caution on solar slopes or if the snow is moist or wet.
Aspects:
South East, South, South West, West, North West.
Elevations:
Below Treeline.
Valid until: Apr 6th, 2019 8:00AM