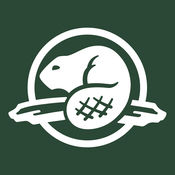 ross campbell, Parks Canada
Glacier National Park Avalanche Forecast
Jan 15th, 2020 8:02AM
The alpine rating is moderate, the treeline rating is moderate, and the below treeline rating is moderate. Known problems include Wind Slabs and Persistent Slabs.
Frostbite and Hypothermia are real concerns with current temperatures, travel and dress accordingly.
Summary
Weather Forecast
Mainly cloudy with flurries today. Temperatures are forecast to reach -19, winds are currently moderate in the Valley, but lighter at high elevations. Hoping some warm air will push out the cold tonight, bringing with it 10-15cm of new snow, as a Low-Pressure system pushes through from the Pacific.
Snowpack Summary
Recent winds from all directions have likely built fresh wind slabs in immediate lees. Faceting and cold temps have given surface snow a chalk-like feel underfoot. Recent snowfall has settled to around 80cm over the Dec 27th surface hoar or crust depending on aspect and elevation. The mid and lower snowpack are generally well settled and strong.
Avalanche Summary
No new avalanches observed in the Highway Corridor, or reported from the Backcountry yesterday. On Monday Mannix avalanche path in the Highway Corridor released naturally yesterday, size 3 terminating halfway down the fan, dusting the Highway.
Confidence
Problems
Wind Slabs
Previous Strong winds from many directions formed Wind Slabs at all elevations on specific terrain features. Cold temperatures have slowed down avalanche initiation rendering the wind slabs stubborn to trigger.
Watch for shooting cracks or stiffer feeling snow. Avoid areas that appear wind loaded.
Be careful with wind loaded pockets, especially near ridge crests and roll-overs.
Aspects:
All aspects.
Elevations:
All elevations.
Persistent Slabs
Likelihood
Possible - Unlikely
The December 27th surface hoar layer persists down 70-90cm. This layer was responsible for two skier triggered avalanches Saturday, and continues to produce hard sudden results in snowpack tests.
Avoid steep convexities or areas with a thin or variable snowpack.
Aspects:
All aspects.
Elevations:
All elevations.
Valid until: Jan 16th, 2020 8:00AM