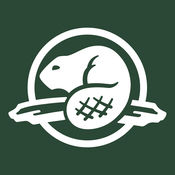 ross campbell, Parks Canada
Glacier National Park Avalanche Forecast
Apr 25th, 2019 8:00AM
The alpine rating is below threshold, the treeline rating is below threshold, and the below treeline rating is below threshold. Known problems include Loose Wet and Storm Slabs.
We should see a loose wet cycle today with the strong solar input. Storm slabs are still lurking in the Alpine, and Treeline.
Summary
Weather Forecast
Mainly sunny today, light winds, no precipitation, and the freezing level will reach 2100m. Friday we could start to see some flurries, freezing level again may reach 2100m, with light to mod westerly winds. 10mm of precipitation will have accumulated by Saturday morning, followed by a general clearing trend Sunday into next week.
Snowpack Summary
All solar aspects to tree-line will have a melt-freeze crust this morning, and possibly into the alpine; isothermal snow lives below any of these surface crusts. Storm snow totalled over 50cm in the high Alpine, and N-NE aspects will have retained the driest snow. In certain locations storm slabs have been reactive down to treeline.
Avalanche Summary
Small slab avalanches were observed in the HWY corridor yesterday to size 1.5 (Hermit & Avalanche Crest). A widespread avalanche cycle to size 3 occurred last Friday. On Saturday skiers triggered a size 2.5 slide on the Youngs Peak headwall. On Monday activity tapered off significantly with only 3 avalanches recorded to sz 2.5 in the HWY corridor.
Confidence
Problems
Loose Wet
A cool clear evening last night, left us with a strong melt-freeze crust this morning. The sun is expected to pack a punch today, breaking down our newly formed surface crust and initiating a loose wet cycle on solar aspects.
Use extra caution on slopes if the snow is moist or wet.
Aspects:
East, South East, South, South West, West, North West.
Elevations:
Treeline, Below Treeline.
Storm Slabs
Likelihood
Likely - Possible
50 cm +/-of storm snow has accumulated in the high alpine over the last 5 days. Recent storm slabs are susceptible to human triggering given the right terrain feature.
Use caution in lee areas in the alpine and treeline. Storm snow is forming reactive slabs.
Be careful with wind loaded pockets, especially near ridge crests and roll-overs.
Aspects:
All aspects.
Elevations:
Alpine, Treeline.
Valid until: Apr 26th, 2019 8:00AM