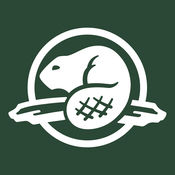 mike smallwood, Parks Canada
Glacier National Park Avalanche Forecast
Apr 27th, 2019 8:11AM
The alpine rating is below threshold, the treeline rating is below threshold, and the below treeline rating is below threshold. Known problems include Loose Wet and Storm Slabs.
The danger will increase during the day especially during breaks in the cloud. Be wary of overhead cornices.
Summary
Weather Forecast
Mostly overcast this morning with flurries, clearing this evening. Expect the sun to be very strong during any breaks in the cloud. Freezing level remaining around 1400m today before falling below valley bottom tonight with strong NE winds. Clearing Sunday with freezing level rising to 1800m.
Snowpack Summary
Up to 10cm new snow fell last night and now sits on a melt freeze crust at treeline and below as well as solar aspects in the alpine. Isothermal snow lives below these surface crusts. Total storm snow this week now over 60cm in the high Alpine, N-NE aspects will have retained the driest snow.
Avalanche Summary
Several loose wet avalanches to size 2 were observed from both N and S aspects yesterday. A very large size 4 was observed at the south end of the park, starting as a size 2 storm slab and stepping down to glacial ice. Last Saturday, skiers triggered a size 2.5 slide on the Youngs Peak headwall.
Confidence
Problems
Loose Wet
Likelihood
Likely - Possible
Overcast skies this morning will slow daytime warming today but the new snow will likely break down quickly. Expect the sun to affect the snow rapidly during any breaks in the cloud and clearing this afternoon.
Minimize exposure to steep, sun exposed slopes when the solar radiation is strong.
Use extra caution on slopes if the snow is moist or wet.
Aspects:
East, South East, South, South West, West, North West.
Elevations:
Treeline, Below Treeline.
Storm Slabs
60cm of storm snow has accumulated in the high alpine over the last week. Recent storm slabs are susceptible to human triggering given the right terrain feature. Slabs seem most reactive on solar aspects, where they sit on a melt-freeze crust.
If triggered the storm slabs may step down to deeper layers resulting in large avalanches.
Be careful with wind loaded pockets, especially near ridge crests and roll-overs.
Aspects:
All aspects.
Elevations:
Alpine, Treeline.
Valid until: Apr 28th, 2019 8:00AM