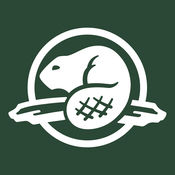 mike smallwood, Parks Canada
Glacier National Park Avalanche Forecast
Mar 22nd, 2019 8:00AM
The alpine rating is high, the treeline rating is high, and the below treeline rating is high. Known problems include Loose Wet and Persistent Slabs.
Solar warming continues today, the snowpack has not had cold enough temperatures to recover overnight this week
Summary
Weather Forecast
Warm again today, with an alpine high temp around 6*C, light winds, the intense sunshine continues with some cloudy periods possible. Freezing levels (FZL) hover around 3000m today. Saturday is forecast to begin cooling with some cloud and freezing levels dropping to 1800m by Sunday and light snow.
Snowpack Summary
A ~40cm slab exists at alpine and tree-line elevations over facets and suncrust. Above freezing temperatures all week at and above 2000m have resulted in poor overnight recovery of the snow surface. Isothermal conditions below treeline.
Avalanche Summary
A natural spring avalanche cycle starting Sunday has continued through the week. Control with artillery produced numerous avalanches size 2.5 to 3.0. Large natural avalanches are still occurring in the heat of the day including a size 3.5 from Lone Pine yesterday. A group of 4 skiers
triggered a sz 2 ascending to Mt Green,
on Sunday.
Confidence
The weather pattern is stable on Friday
Problems
Loose Wet
Likelihood
Certain - Very Likely
Strong sunshine and rapidly increasing temps will destabilize the upper snowpack, resulting in loose wet avalanches during the heat of the day. Traveling in avalanche terrain is not recommended today, especially on solar aspects this afternoon.
Minimize exposure to steep, sun exposed slopes when the solar radiation is strong.Avoid slopes when the solar radiation is strong, especially if they have large cornices overhead.
Aspects:
East, South East, South, South West, West.
Elevations:
All elevations.
Persistent Slabs
At tree-line and above, a ~40cm soft slab is bonding poorly to the underlying sun crust, or to facets on shaded aspects. The prolonged warmth has helped the mtns shed much of the slab, so where it still exists, be wary of its unstable nature.
Pay attention to overhead hazards like cornices which could trigger the persistent slab.Convex features and steep unsupported slopes will be most prone to triggering.
Aspects:
All aspects.
Elevations:
Alpine, Treeline.
Valid until: Mar 23rd, 2019 8:00AM