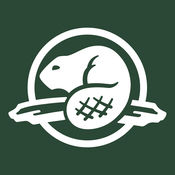 chris gooliaff, Parks Canada
Glacier National Park Avalanche Forecast
Mar 18th, 2019 8:00AM
The alpine rating is high, the treeline rating is high, and the below treeline rating is high. Known problems include Loose Wet and Persistent Slabs.
Unseasonably warm temperatures and intense sunshine will rapidly destabilize the upper snowpack. Avoid travel on or below solar-exposed slopes.
Summary
Weather Forecast
Welcome to the
diurnal
spring swing! Today will be sunny with an alpine high of 3*C, light winds with a freezing level rising to 2900m. The drastic temperature swings continue through the week as a strong upper ridge builds over the region, bringing clear skies and daylight freezing levels up to 3300m.
Snowpack Summary
Surface snow consists of sun crust on solar aspects and loose dry snow on polar aspects. A ~50cm soft slab sits on a variety of old surfaces: sun crust on solar aspects; hard slab in exposed areas; and facets in sheltered locations. The snowpack is generally facetted from Feb's cold streak and could lose strength quickly with the warming temps.
Avalanche Summary
A natural avalanche cycle yesterday spit out numerous avalanches from sz 1.0 - 3.0 from all aspects and elevations. A group of 4 skiers
triggered a sz 2 ascending to Mt Green,
E aspect, 2460m, while boot-packing through facets. All were caught, one skier was injured. Solar aspects were very active in the afternoon with the intense sun and heat.
Confidence
Problems
Loose Wet
Strong sunshine and rapidly increasing temp's will destabilize the upper snowpack, resulting in wet loose avalanches during the heat of the day. Aspects facing the sun should be avoided while they are baking in the sun.
Minimize exposure to steep, sun exposed slopes when the solar radiation is strong.Avoid slopes when the solar radiation is strong, especially if they have large cornices overhead.
Aspects:
East, South East, South, South West, West.
Elevations:
All elevations.
Persistent Slabs
Likelihood
Likely - Possible
At treeline and above the recent snow has settled into a soft slab that is up to 50cm deep and is bonding poorly in areas where it sits on weak, faceted snow or on a sun crust. Rising temperatures will put additional stress on this layer.
Pay attention to overhead hazards like cornices which could trigger the persistent slab.Convex features and steep unsupported slopes will be most prone to triggering.
Aspects:
All aspects.
Elevations:
Alpine, Treeline.
Valid until: Mar 19th, 2019 8:00AM