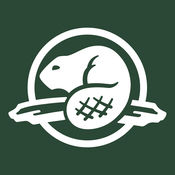 chris gooliaff, Parks Canada
Glacier National Park Avalanche Forecast
Apr 26th, 2019 8:00AM
The alpine rating is below threshold, the treeline rating is below threshold, and the below treeline rating is below threshold. Known problems include Loose Wet and Storm Slabs.
The danger will increase during the day with the powerful sun and warm temps. Cornices are large on ridge-crests and become fragile in the heat.
Summary
Weather Forecast
Increasing cloud today, with flurries tonight. Freezing levels (FZL) will rise to 2200m, with light S winds. Snow arrives tonight and continues Saturday, with 15-20cm expected. Winds will be moderate to strong from the SW during the snowfall. FZL will remain near 1400m. Clearing Sunday, with light NE winds and FZL rising to 1800m.
Snowpack Summary
Solar aspects will have a melt-freeze crust this morning. Isothermal snow lives below these surface crusts. Storm snow totalled over 50cm in the high Alpine last week, and N-NE aspects will have retained the driest snow. In certain locations, storm slabs have been reactive down to tree-line.
Avalanche Summary
Several loose, wet avalanches to size 2 were observed from both N and S aspects in the HWY corridor yesterday. A very large size 4 was observed at the south end of the park, starting as a size 2 storm slab and stepping down to glacial ice. Last Saturday, skiers triggered a size 2.5 slide on the Youngs Peak headwall.
Confidence
Problems
Loose Wet
Likelihood
Likely - Possible
Another cool, clear evening last night formed a strong melt-freeze crust. The morning sun will break down the surface crust on E and S aspects, and initiating a loose wet cycle. Afternoon cloud may preserve the crust on W aspects.
Use extra caution on slopes if the snow is moist or wet.
Minimize exposure to steep, sun exposed slopes when the solar radiation is strong.
Aspects:
East, South East, South, South West, West, North West.
Elevations:
Treeline, Below Treeline.
Storm Slabs
Likelihood
Likely - Possible
50cm of storm snow has accumulated in the high alpine over the last 5 days. Recent storm slabs are susceptible to human triggering given the right terrain feature. Slabs seem most reactive on solar aspects, where they sit on a melt-freeze crust.
Be careful with wind loaded pockets, especially near ridge crests and roll-overs.
If triggered the storm slabs may step down to deeper layers resulting in large avalanches.
Aspects:
All aspects.
Elevations:
Alpine, Treeline.
Valid until: Apr 27th, 2019 8:00AM