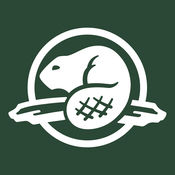 ross campbell, Parks Canada
Glacier National Park Avalanche Forecast
Feb 19th, 2019 8:10AM
The alpine rating is moderate, the treeline rating is low, and the below treeline rating is low. Known problems include Wind Slabs and Loose Dry.
Surface conditions are quite variable; even similar aspects and elevations, can have drastic differences. Evaluate each slope individually. Dig down and assess the buried wind slabs, cold temperatures continue to weaken the upper snowpack.
Summary
Weather Forecast
A weak low-pressure system tracks through BC today, narrowly missing Rogers Pass. Minuscule amounts of new snow can be expected, winds should stay light from the S-SW, and the temperatures will remain cold. Tomorrow the high-pressure will settle back over Rogers Pass, until Friday when the next weak weather system tracks SE from the NW.
Snowpack Summary
15cm of storm snow covers old hard wind slabs in the alpine and exposed areas of tree line. In sheltered areas at and below tree line the storm snow is covering surface hoar and near surface facets. The Jan 17 surface hoar is down 50-70cm at TL and below. the mid and lower snowpack is well settled and strong.
Avalanche Summary
No new avalanche activity in the HWY corridor yesterday. One
MIN
from Connaught drainage confirming the solar cycle on Sunday; which produced numerous size 1-1.5 loose dry, some triggering slabs up to size 2.5. Cheops North 4 also ran to size 1.5 (loose dry), and Nicky's Notch had a cornice triggered slab, size 2.5.
Confidence
Due to the number and quality of field observations
Problems
Wind Slabs
Previous strong winds have hammered the alpine and exposed areas at tree line. Buried slabs vary from hard and supportive to pockets of wind-loaded facets. At lower elev slabs could propagate on buried surface hoar.
If triggered the wind slabs may step down to deeper layers resulting in larger avalanches.Be careful with wind loaded pockets, especially near ridge crests and roll-overs.
Aspects:
All aspects.
Elevations:
Alpine, Treeline.
Loose Dry
15cm of new snow covers surface facets and surface hoar. The storm snow is bonding poorly and easily sluffing in steep alpine terrain. Be cautious of being hit by these loose avalanches while moving in gullies, chutes and confined terrain features.
Be cautious of sluffing in steep terrain, particularly where the debris flows into terrain traps.
Aspects:
All aspects.
Elevations:
Alpine.
Valid until: Feb 20th, 2019 8:00AM