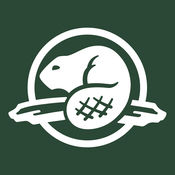 percy woods, Parks Canada
Glacier National Park Avalanche Forecast
Apr 28th, 2019 8:00AM
The alpine rating is below threshold, the treeline rating is below threshold, and the below treeline rating is below threshold. Known problems include Wind Slabs and Loose Wet.
North Easterly winds were raking the forecast area overnight. Cornices are large and looming. Minimize your exposure to these lurking giants.
Summary
Weather Forecast
Sunny with an alpine high temp of -4C. Winds are forecast to be light out of the NE with a freezing level rising to 1800m. Very much the same forecast for Monday with the chance of a trace of storm snow on Tuesday with freezing levels rising to the 1800m range during the day.
Snowpack Summary
Mod to strong NE winds have redistributed up to 10cm new snow that fell Friday night. This now sits on a melt freeze crust at treeline and below as well as solar aspects in the alpine. Isothermal snow lives below these surface crusts. Total storm snow this week now over 60cm in the high Alpine, N-NE aspects will have retained the driest snow.
Avalanche Summary
No new avalanche observations in the highway corridor.
Confidence
Problems
Wind Slabs
Mod -strong N-NE winds have reverse loaded recent storm snow onto Alpine and exposed treeline SW-S aspects. These new thin slabs will reside over old melt freeze crusts and may be sensitive to human triggering.
Be careful with wind loaded pockets formed by Northeasterly winds.
Use caution above cliffs where small avalanches may have severe consequences.
Aspects:
North, South East, South, South West, West, North West.
Elevations:
Alpine, Treeline.
Loose Wet
Likelihood
Possible - Unlikely
Alpine temps are forecast to remain cold today. however steeper true solar aspects may see enough spring solar radiation to start shedding surface snow in the form of point releases.
Watch for moist surface snow over crust on steeper solar aspects.
Aspects:
South East, South, South West.
Elevations:
All elevations.
Valid until: Apr 29th, 2019 8:00AM