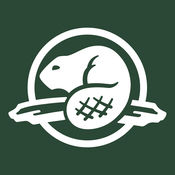 ross campbell, Parks Canada
Glacier National Park Avalanche Forecast
Apr 24th, 2019 8:00AM
The alpine rating is considerable, the treeline rating is moderate, and the below treeline rating is moderate. Known problems include Storm Slabs and Loose Wet.
Strong solar input today will produce loose wet avalanches on solar aspects. Storm slabs are still lurking on N-NE Alpine features.
Summary
Weather Forecast
Today starts off cloudy with flurries/showers, making way for sunshine and high-pressure. FL will rise to 1800m, and winds will be moderate from the west. Clear tonight, with another a beautiful spring day forecasted for Thursday. Friday will be a little more unsettled, and the weekend looks wet, with another pulse of precip from the pacific.
Snowpack Summary
A supportive surface crusts caps a mainly isothermal snowpack at TL and below. In the high alpine, 50 - 60 cm recent storm snow is preserved on North aspects, and is sun affected elsewhere over a melt-freeze crust.
Avalanche Summary
3 new avalanches were observed in the HWY corridor yesterday, up to size 2.5 (Rail Road Gunners, MacDgully #7, and Single Bench). A widespread avalanche cycle to size 3 occurred last Friday. On Saturday skiers remotely triggered a size 2.5 slide on the Youngs Peak headwall that 3 people were involved in. All three were unhurt in the slide.
Confidence
Due to the number and quality of field observations
Problems
Storm Slabs
Likelihood
Likely - Possible
50 cm +/-of storm snow has accumulated in the high alpine over the last 5 days. Recent storm slabs are susceptible to human triggering given the right terrain features and increasing load.
Be careful with wind loaded pockets, especially near ridge crests and roll-overs.
Use caution in lee areas in the alpine and treeline. Storm snow is forming reactive slabs.
Aspects:
All aspects.
Elevations:
Alpine.
Loose Wet
Likelihood
Likely - Possible
Rain to near treeline and no overnight freeze at 1900m. Expect moist point release slides this afternoon. Low elevation S aspects are rapidly melting back.
Use extra caution on slopes if the snow is moist or wet.
Aspects:
East, South East, South, South West, West, North West.
Elevations:
Treeline, Below Treeline.
Valid until: Apr 25th, 2019 8:00AM