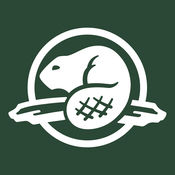 mark herbison, Parks Canada
Glacier National Park Avalanche Forecast
Jan 23rd, 2019 8:00AM
The alpine rating is moderate, the treeline rating is moderate, and the below treeline rating is low. Known problems include Wind Slabs.
Pockets of wind slab exist in the alpine and exposed areas at tree line. Test adjacent low consequence features before making the decision to drop into your line.
Summary
Weather Forecast
Mainly cloudy today with light snow flurries and periods of sun. Alpine high of -8, Westerly winds 15-35 kph and the freezing level reaching 1100m. Cool temps and small amounts of precip over the next few days as a ridge of high pressure builds for the weekend, hopefully bringing sunny skies for high alpine tours.
Snowpack Summary
6cm of new snow rests on a strong, settled snowpack with only a few layers of note. The Jan17th SH layer buried 15-30cm and seems most problematic where the wind has created soft slabs above it. The buried PWLs (Nov 21st and Oct Crust) have been unreactive in stability tests, but may wake up later in the season, or in shallow areas.
Avalanche Summary
No avalanches observed or reported from the backcountry in the last two days. There were 3 skier induced avalanches over the weekend; one skier control size 2 in the Lookout Couloirs and two skier accidentals, one in Hospital Bowl and the other in the Ravens. Both skier accidentals posted a
MIN
, or reported it to the Rogers Pass Discovery Center.
Confidence
Problems
Wind Slabs
Likelihood
Possible - Unlikely
Over the weekend we received 20cm of new snow accompanied by extreme winds forming wind slabs in isolated locations throughout the park. This soft slab overlies the Jan 17th SH in sheltered areas and a suncrust on steep solar aspects.
Dig down to find and test weak layers before committing to a line.Use caution in lee areas. Recent wind loading have created wind slabs.
Aspects:
North, North East, East, South East, North West.
Elevations:
Alpine, Treeline.
Valid until: Jan 24th, 2019 8:00AM