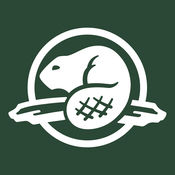 Tim Haggarty, Parks Canada
Banff Yoho & Kootenay National Park Avalanche Forecast
Mar 21st, 2020 4:00PM
The alpine rating is low, the treeline rating is low, and the below treeline rating is low. Known problems include Wind Slabs and Deep Persistent Slabs.
Snow with elevated winds overnight  Sunday will start the change in conditions through next week.
Summary
Weather Forecast
Skies became overcast Saturday afternoon and the possibility of precip increases into Sunday afternoon and through the start of the week with up to 15cm possible by Monday evening. Alpine winds are expected to pick up to strong SW Sunday afternoon with alpine temperatures between -10 and -15C. 
Snowpack Summary
5-10cm of snow that fell Wednesday now has a suncrust on solar aspects. Widespread wind effect in the alpine from recent multidirectional winds. In shallow snowpack areas the weak basal facets remain a concern.
Avalanche Summary
Several solar triggered small loose avalanches observed Wednesday and Thursday. Otherwise, no new avalanches observed or reported.
Our observations are very limited and we appreciate your reports to the MIN.
Confidence
Problems
Wind Slabs
Likelihood
Possible - Unlikely
Recent snow and winds from variable directions have developed wind slabs in lee areas on a variety of aspects. These are generally small but remain possible to trigger. Use caution with them in steep terrain, especially in thin snowpack areas.
If triggered the wind slabs may step down to deeper layers resulting in large avalanches.
Variable winds may create pockets of wind slab in some unexpected locations.
Aspects:
All aspects.
Elevations:
Alpine.
Deep Persistent Slabs
Use caution in thin snowpack areas averaging 150cm or less. In these areas the basal snowpack layer of depth hoar and facets remains weak, and the mid and upper snowpack is thin enough to allow for triggering of the deep persistent layer.
Pay attention to overhead hazards like cornices which could trigger the deep persistent slab.
Be aware of thin areas that may propogate to deeper instabilites.
Aspects:
All aspects.
Elevations:
Alpine, Treeline.
Valid until: Mar 22nd, 2020 4:00PM