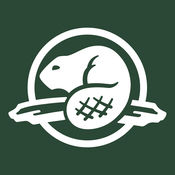 conrad janzen, Parks Canada
Banff Yoho & Kootenay National Park Avalanche Forecast
Apr 27th, 2019 7:40PM
The alpine rating is considerable, the treeline rating is moderate, and the below treeline rating is low. Known problems include Storm Slabs, Loose Wet and Persistent Slabs.
With 30-40 cm of new snow expected in the high alpine by Sunday, this is a good time to step back in your terrain choices. Stick to moderate angled terrain with minimal overhead hazard until the storm snow begins to bond with the underlying layers.
Summary
Weather Forecast
Back to winter with alpine temperatures in the -10 to -15'C range and valley bottoms just above freezing expected for tomorrow. The snow is supposed to finish Saturday night with a mix of sun and cloud expected on Sunday. Winds will remain strong overnight but drop into the light range by late in the day on Sunday as they switch from NE back to NW.
Snowpack Summary
15-20 cm of new snow fell at treeline on Saturday with up to 30-40 cm expected in high alpine areas. Wind loading is present on alpine lee alpine areas from moderate to strong W through NE winds. Supportive crusts exist below this new snow on solar aspects and at lower elevations. Isolated pockets of deep facets still exist on cold north exposures.
Avalanche Summary
Some small storm slabs observed on Saturday. Skier controlled small storm slabs in alpine lee areas reported by the local ski areas during control work on Saturday. One cornice failure on Thursday resulting in injuries to the party skiing below so keep those in mind as well. We expect increased avalanche activity Sunday as the storm slab develops.
Confidence
Due to the number of field observations
Problems
Storm Slabs
15-40 cm of new snow from the storm and wind on Saturday is forming a slab over a variety of old wind slabs, crusts and facets in the alpine. Natural avalanches are possible and triggering these in steep terrain will be likely on Sunday.
The new snow will require several days to settle and stabilize.
Use caution in lee areas. Wind loading could create slabs.
Aspects:
All aspects.
Elevations:
Alpine, Treeline.
Loose Wet
Likelihood
Likely - Possible
The new storm snow will heat up quickly and begin sluffing on steep solar aspects when the sun comes out on Sunday. Avoid this type of terrain once the day warms up.
Use extra caution on slopes if the snow is moist or wet.
Aspects:
South East, South, South West, West.
Elevations:
Alpine, Treeline.
Persistent Slabs
Likelihood
Possible - Unlikely
We have seen some evidence of lingering deeper instabilities in the alpine from various crust and facets layers in April. These have been triggered by cornice falls and wind slabs. Keep checking for these weaknesses in steep alpine features.
Aspects:
North, North East, East.
Elevations:
Alpine.
Valid until: Apr 28th, 2019 4:00PM