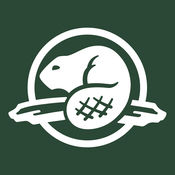 Conrad Janzen, Parks Canada
Banff Yoho & Kootenay National Park Avalanche Forecast
Nov 23rd, 2019 4:00PM
The alpine rating is considerable, the treeline rating is moderate, and the below treeline rating is low. Known problems include Wind Slabs and Deep Persistent Slabs.
Avalanche activity is expected to increase Sunday with 10-20 cm of snow and strong winds forecast. It will be a good day to stay on more moderate angled terrain and minimize exposure to steep alpine/ treeline terrain and gullies.
Summary
Weather Forecast
Strong west winds and between 10-20 cm of new snow are forecast for Saturday night and Sunday with areas near the divide receiving the bulk of the snow. Temperatures will remain mild on Sunday and slowly start to cool on Monday as clear cold weather moves in for the week.
Snowpack Summary
Wind slabs will continue to build overnight with new snow and strong SW winds. 15-30 cm of faceted snow sits over a melt freeze crust from early November. This crust is present to ~2400 m. Below this crust the snowpack is generally weak facets to ground. Treeline snow depths range from 40-80 cm, with up to 110 cm in wind loaded alpine areas.
Avalanche Summary
No new avalanches reported on Saturday but observations were limited. Friday some loose dry avalanches in steep, cross loaded gullies on Observation Peak, and a couple of smaller wind slabs from steep ridge tops in the same area were reported between size 1-2. We expect avalanche activity to increase on Sunday with the new snow and strong winds.
Confidence
Forecast snowfall amounts are uncertain on Sunday
Problems
Wind Slabs
Likelihood
Likely - Possible
Strong west winds and 10-20 cm of forecast snow will result in fresh wind slabs forming in open areas, and avalanche activity in steep alpine terrain on Sunday. Areas near the continental divide will receive the most snow.
Minimize exposure during periods of loading from new snow and wind.
If triggered the wind slabs may step down to deeper layers resulting in large avalanches.
Aspects:
North, North East, East, South East, South.
Elevations:
Alpine, Treeline.
Deep Persistent Slabs
The lower snowpack consists of weak facets and crusts. There is potential for avalanches to step down to this deeper layer as the forecast snow arrives coupled with strong winds.
Convex features and steep unsupported slopes will be most prone to triggering.
Aspects:
All aspects.
Elevations:
Alpine, Treeline.
Valid until: Nov 24th, 2019 4:00PM