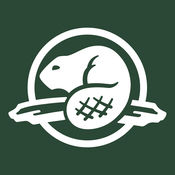 grant statham, Parks Canada
Banff Yoho & Kootenay National Park Avalanche Forecast
Oct 1st, 2019 8:38AM
The alpine rating is below threshold, the treeline rating is below threshold, and the below treeline rating is below threshold. Known problems include Wind Slabs.
Winter has arrived. Recent cold temperatures and snowfall has quickly changed the mountains from summer into winter - almost no autumn season! Alpine areas have enough snow to produce avalanches and early season keeners should be prepared.
Summary
Weather Forecast
Check Environment Canada for updates to the Banff and Yoho National Park forecast. Long-term (10 day) models are showing more snow every few days for the first part of October. Expect a few nice days, then some snow, then nice again. Temperatures are look like they will remain cool.
Snowpack Summary
The giant upslope storm that hit Alberta at the end of September did not hit Banff Park as hard. As of October 1 there is 15 cm on the ground at treeline Sunshine Village and Mt. Bosworth. Expect drifted areas on the Wapta Icefields of up to 100 cm in leeward areas. Winds will be moving snow and creating windslabs in leeward areas in the alpine.
Avalanche Summary
Small windslabs have been reported in alpine areas, but no significant natural avalanches have been observed yet. Expect this to change and avalanche activity to increase as October progresses.
Confidence
Problems
Wind Slabs
Early season snow has arrived early this fall, and although Banff and Yoho Parks did not receive the heavy dump that fell to the east, there is now enough snow for avalanches and keen early-season climbers and skiers should be prepared.
Be careful with wind loaded pockets while approaching and climbing ice routes.
Aspects:
All aspects.
Elevations:
Alpine.
Valid until: Oct 2nd, 2019 8:38AM